These days, there are lots of solar generators available, and they come with different numbers like watts and watt-hours. But do you know what these numbers mean and how well these generators work?
For example, you might have heard that solar generators can be big or small, and they're often sorted by how much power their batteries can hold.
So, if you're curious about a 2000 watt solar generator and how it does its job, you're in the right spot. In this guide, we're going to talk about how much energy the POWEREPUBLIC T2200 solar generator kit can store and how it works.
Starting With The Units
When it comes to the units, many people get a little mixed up and confused. They often wonder if "Watt" (W) and "Watt Hour" (Wh) mean the same thing or do the same job. The answer is NO. These are two separate ideas. 
Let's explain the definition of these units:
Watt (W)
A watt is a unit of power. In the context of portable power stations and solar generator kits, it refers to the rate at which electrical energy is produced or consumed. Watts indicate how much power a device can handle at a given moment. For example, if a power station is rated at 2200 watts, it can supply or support devices that collectively draw up to 2200 watts of power simultaneously.
Watt-Hour (Wh)
Watt-hours measure the total energy capacity of portable power stations over time. It's calculated by multiplying the power (in watts) by the time (in hours) for which that power is used. For instance, a 2240Wh power station can provide 1000 watts of power for about 2 hours, 500 watts for about 4 hours, or any combination that adds up to 2200 watts over time. This measurement is crucial for estimating how long your power station can run specific devices before needing a recharge.
Ampere-Hour (Ah)
Ampere-hours represent the battery capacity of portable power stations. It measures how many hours a power station can deliver one ampere (amp) of current before the battery is depleted. To calculate watt-hours from ampere-hours, you need to multiply the ampere-hours by the voltage of the power station (typically around 120V for household devices in the United States). For example, a power station with a 100Ah battery and a voltage of 120V would have a capacity of 12,000Wh (100Ah x 120V).
So watts describe the power output or consumption at a given moment, watt-hours measure the total energy capacity over time, and ampere-hours represent the battery capacity, which can be used to calculate watt-hours based on the voltage of the system. These measurements help users understand the capabilities and limitations of portable power stations for various devices and applications.
Knowing Them Before Your Needs
Understanding these technical terms is essential when choosing the right solar generator for your needs. Let's break it down to make it simple:
Watts and Watt-Hours: When you're picking a solar generator, it's crucial to look at both the "Watts" and "Watt Hours." These numbers tell you what the generator can handle.
For instance, take our T2200 solar generator. It is rated at 2200 watts and has a capacity of 2240 watt-hours. This means you can plug in devices that use up to 2200 watts. If something needs more power than that, you will need a solar generator with higher-rated power.
Battery Capacity (Wh): Now, when we talk about "capacity" (measured in Watt-Hours), it's like talking about how big the fuel tank is in your car. The bigger it is, the longer you can drive before you need to refuel. In the case of a solar generator, a higher Wh rating means you can power your devices for a longer time (as long as they stay within the rated wattage of your generator).
We all know that solar generator kits are quite costly, especially if you are looking for a 2000 watt solar generator. So, understanding these numbers will help you choose the solar generator that matches your power needs. It's like making sure your car's gas tank is the right size for your road trip.
POWEREPUBLIC T2200 Solar Generator Kit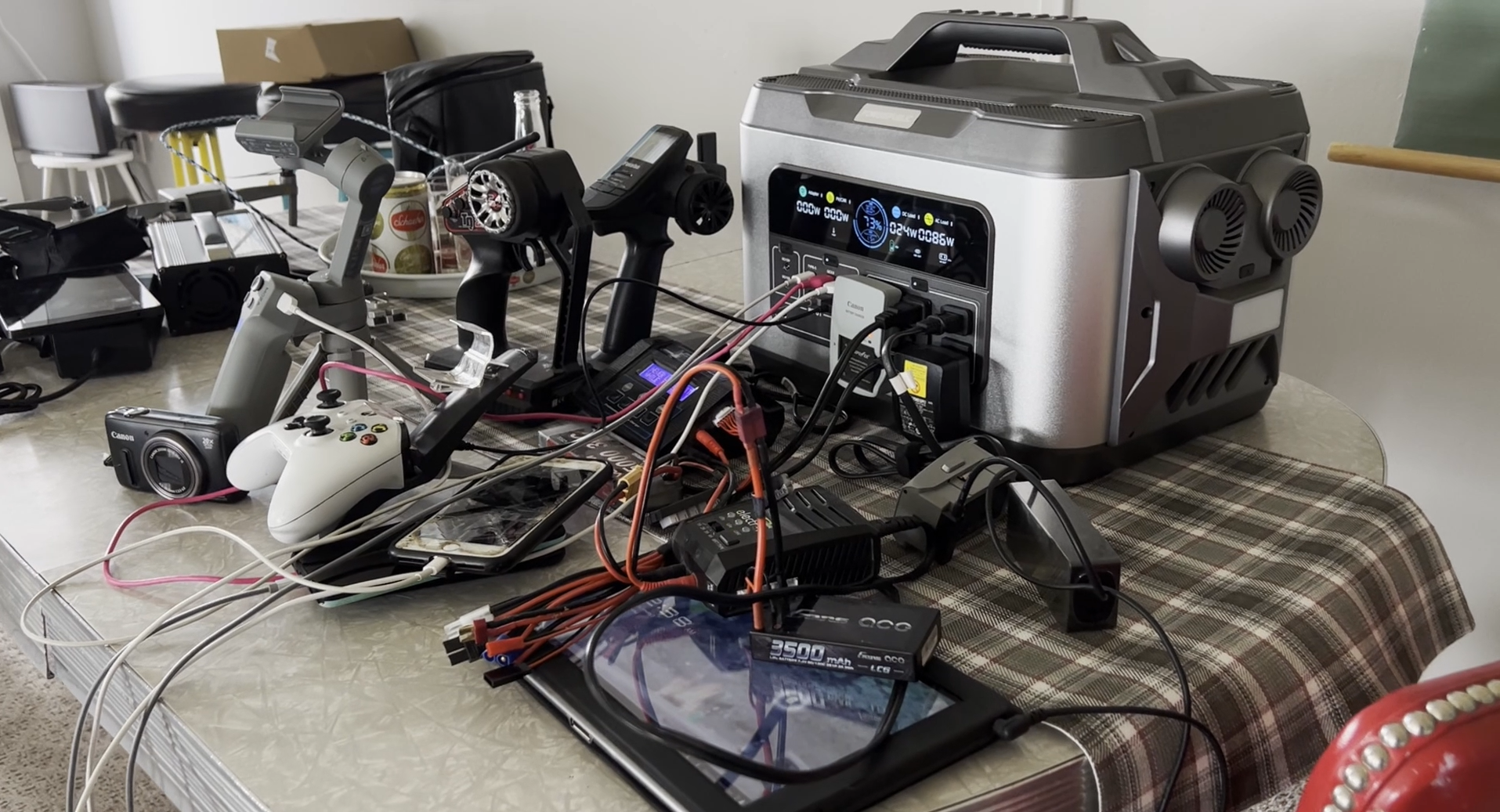 To figure out which appliances your solar generator can run, you need to have a general idea about how much power those appliances use (rated power). To find out how long you can use an appliance, you'll need to know the battery capacity as well. After knowing them, you can calculate the time using this simple formula: 
Time(h)=Capacity of the Solar Generator(Wh) *0.85(conversion rate)/ Total Power of the devices(W) 
Model

LCD TV (100-150W)

Mini-Fridge 

(150W)

Power tools (1000W)

Heavy-Duty Appliances

(1000W)

Vacuum  (1000W)

AC (1500W)

300W

 Y

Y

 

 

 

 

1200W

 Y

 Y

 Y

 Y

 

 

2200W

 Y

 Y

 Y

 Y

 Y

 Y

3000W

 Y

 Y

 Y

 Y

 Y

 Y
POWEREPUBLIC T2200 Solar Generator Kit: The Specs
The T2200 solar generator kit is a perfect 2000 watt solar generator for both outdoor adventures and indoor backups at home. It can run a wide range of appliances you commonly find on the market, from mini-fridges and coffee makers to some household appliances such as microwaves, washing machines, etc.
Tech Specs:  
2200W, Surge 4,500W

2,240Wh Capacity

LiFePO4 Battery with 3,000+ Life Cycles

14 Different Output Ports

3 Ways Of Recharge (AC/Solar/Car)

Eco-friendly/Gas free
Conclusion
We sincerely hope that this article has been informative and has shed light on the capabilities of a 2000 watt solar generator. We aim to empower you with the knowledge needed to make informed decisions when selecting a power station that suits your needs.
Understanding the distinctions between watts and watt-hours, as well as how they relate to your appliances and the energy capacity of your generator, is crucial in ensuring that you make the most efficient use of your portable power source.
In the future, armed with this information, you'll be better equipped to choose a power station that aligns perfectly with your requirements, whether it's for outdoor adventures, backup power at home, or any other situation where portable power is essential.
As technology advances and the demand for portable power solutions grows, having a grasp of these fundamental concepts will enable you to stay ahead and make the most out of your portable power station.
Discover more about POWEREPUBLIC T306, POWEREPUBLIC T1200, and POWEREPUBLIC T3000.