Table Of Contents:
We are all familiar with portable power stations as an alternative power solution for outdoor enthusiasts. However, you might find the term 'UPS' unfamiliar. It does not stand for the UPS postal service here, rather it stands for Uninterruptible Power Supply.
In this article, we will give a brief introduction to what is a UPS, what the main differences between UPS and portable power stations are, and what the main benefits are.
Uninterruptible Power Supply(UPS)
In general, an Uninterruptible Power Supply (UPS) is a device that provides emergency or backup power to devices when the primary power source fails, fluctuates, or is unstable outside of the normal voltage level. It is designed to provide a reliable and continuous power supply to appliances, such as computers, servers, telecommunications equipment, medical devices, and so forth. A UPS relies on grid power to run simultaneously.
The main components of a UPS include:
Battery: stores electrical energy and provides power to the connected equipment in the event of a power outage. The battery is charged when the input power is available.
Rectifier: converts the AC input power from the utility into DC power
Inverter: The inverter converts DC power from the battery into AC power.
Transfer switch: It is responsible for switching the power source from the utility to the battery/inverter during power blackouts.
Control circuitry: It is responsible for monitoring the input power, battery voltage, and other parameters to ensure that the UPS is working properly.
Surge suppression: protects the connected equipment from power surges and spikes.
Communication ports: allow the UPS to communicate with the connected devices and notify them if there are any power events or issues.
Due to different applications, UPS devices are also available in different sizes and configurations. Some of the common types include standby UPS, line-interactive UPS, and online UPS. Standby UPS provides power ONLY when the primary source fails. On the other hand, line-interactive UPS has additional features to regulate voltage fluctuations. Online UPS provides the highest level of protection by filtering out all power disturbances to provide a continuous power supply.
Portable Power Stations(PPS)
A portable power station is a compact and rechargeable battery that can store and provide power for various devices and appliances, especially for off-grid lives or lives on the go. It is designed to be a convenient and portable power source for outdoor activities and camping trips, or even use as a backup power source for emergencies.
It is designed to be a convenient and portable power source that you can take with you wherever you go for outdoor activities and camping trips, or even use as a backup power source for emergencies.
The key components in a portable power station may vary depending on different models and manufacturers, but some of the common components include:
Battery: The battery is the heart of the portable power station. It stores electricity from sources like solar panels, wall outlets, or car chargers.

Inverter: An inverter is like a magic translator. It turns the battery's stored electricity (DC) into the kind of electricity (AC) that most devices and appliances need. This lets you power things like laptops, TVs, fridges, and cameras. There are different types of inverters, but the most common one mimics pure, clean electricity.

Charge Controller: This smart controller keeps an eye on how the battery gets charged, making sure it's done safely and efficiently. It's like a guardian, preventing overcharging or overheating when you're charging from solar panels, wall outlets, or car chargers.

Display Screen: Some portable power stations come with a screen, usually an LCD, that tells you important stuff. It shows things like how much battery is left, how much power is going in and out, and even how much solar energy is coming in.

Input and Output Ports: These are the connections that make the magic happen. Input ports let you charge the battery using AC wall outlets, DC inputs, or solar panels through special connectors. Output ports are where you plug in your devices. They can be regular AC outlets, DC outputs, or USB ports, including faster charging options like Type-C and QC3.0.

Cooling System: Things can get a little toasty inside a power station, especially when it's working hard. To keep it cool and prevent overheating, there's usually a built-in fan or heat sink. Think of it like a tiny air conditioner for your power station.
These components work together to make sure your portable power station provides you with reliable, safe, and efficient power wherever you need it.
POWEREPUBLIC

 Portable Power Stations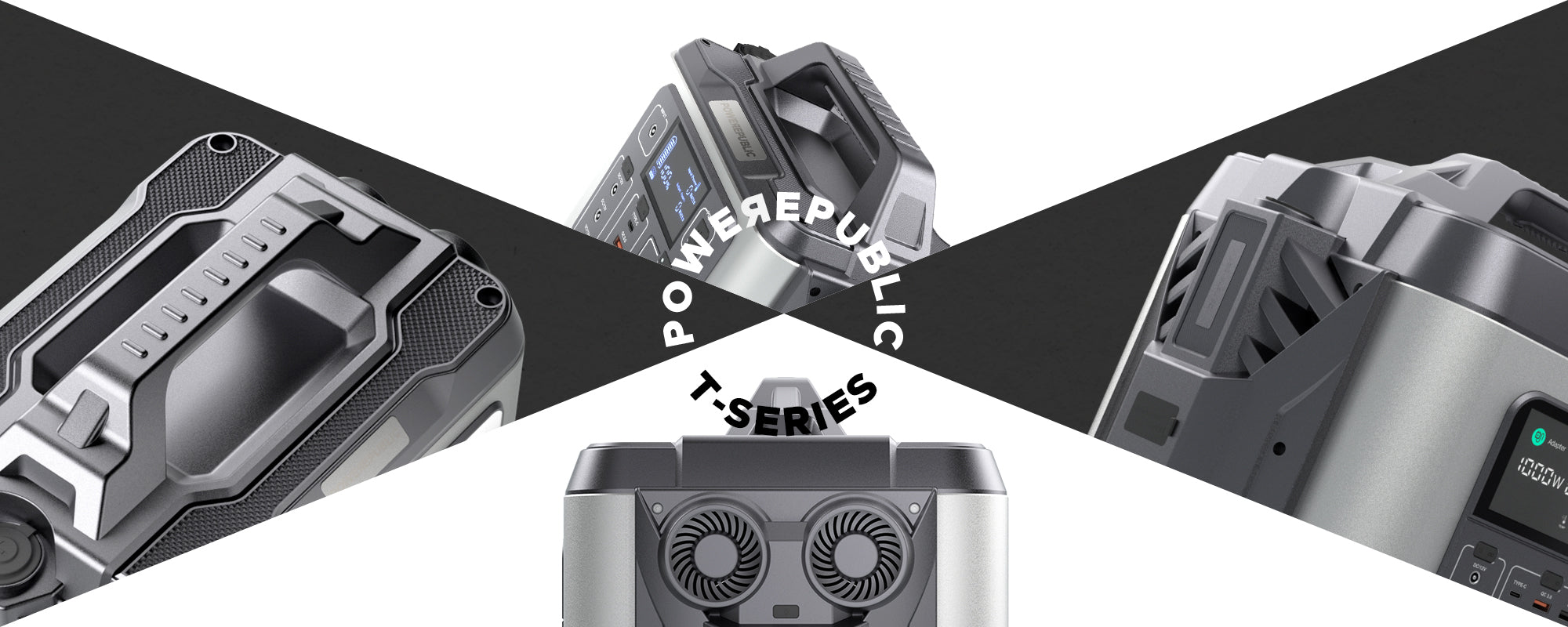 If you are looking for a portable power station that is powerful, durable, and sleek, consider the POWEREPUBLIC Portable Power Station. With rated power ranging from 300W to 3000W, and capacity ranging from 296Wh to 3200Wh, they are capable of satisfying all your outdoor needs all at once, not to mention during power outages. With them, you won't have to worry about running out of power. All you have to do is plug your devices directly into the POWEREPUBLIC Portable Power Station for continuous and reliable energy on the go.
Knowing The Differences Between UPS And Portable Power Stations?
Let's talk about the main differences between UPS (Uninterruptible Power Supply) and PPS (Portable Power Station).
Functionality
UPS: Picture a UPS as a vigilant power guardian for your home or office devices, especially during unexpected power outages. It relies on regular electricity and swiftly switches to its internal battery when the need arises

PPS: Think of a Portable Power Station as your trusty mobile energy companion. It can power your gadgets as long as its battery is charged. What's even cooler? It doesn't crave the regular electricity grid; you can rejuvenate it with solar panels or your car's power.
Portability
UPS: UPS units are like the hefty, static bodyguards of the power world. They tend to be large and heavy, typically finding a permanent place in your home or office, almost like furniture.

PPS: Portable Power Stations, true to their name, are the nimble, on-the-go champs. They're lightweight and designed to be easily carried around. Portability is their middle name, and they're always up for an adventure. UPS devices, on the other hand, are not built for mobility.
Runtime
UPS: A UPS is your quick power fix during brief outages. It's like the power-saving superhero that can keep your devices going for a short stint, usually around 2 hours. Once the regular power is restored, it gracefully steps back, ready for the next power-saving mission.

PPS: Here's where the Portable Power Station shines. Depending on its battery size and the number of gadgets connected, a PPS can provide power for hours, or even days! It's your dependable power source for extended periods. However, remember that once it's drained, it needs some recharge time to get back in action.
In A Nutshell
UPS: Ideal for tackling those short power hiccups or ensuring your devices stay secure and operational.
PPS: Perfect for longer power needs, whether you're venturing into the great outdoors, going off-grid, or simply requiring power on the move. It's a versatile, mobile power solution for both adventures and everyday life.
Which One

is Right For You?
Now that we've talked about the differences between a UPS and a portable power station, you might wonder which one is right for you. Well, it depends on what you need.
When to Choose a UPS
A UPS is like a trusty guardian for your important electronics, especially when the power suddenly goes out. Here's when it's the better choice:
Protecting Sensitive Equipment: If you have sensitive devices like computers, servers, or medical equipment that can't afford even a tiny hiccup in power, a UPS is your go-to. It ensures they keep running smoothly during any power interruptions.

Home or Office Backup: UPS units are perfect for keeping your home office or workplace up and running when the lights flicker or go out. They seamlessly switch to battery power, so you don't lose any important work.

Continuous Power: Whether it's a short glitch or a more extended outage, a UPS keeps your devices powered until regular electricity is back. It's great for those times when you can't afford any downtime.
When to Choose a Portable Power Station (PPS)
A portable power station is like a versatile sidekick that's always ready for your outdoor adventures or on-the-go power needs. Here's when it's the better option:
Mobile Power Source: If you're someone who loves the great outdoors, whether it's camping, hiking, attending outdoor events, or working at a construction site, a portable power station is your best friend. It's your source of power wherever you wander.

Outdoor Cooking: Planning a BBQ picnic, outdoor cooking, or any event where you need electricity away from home? A PPS will provide you with the power you need for your grills, blenders, and other gadgets.

RV Life: For RV enthusiasts, a portable power station can be a lifeline on the road. It keeps your devices charged and provides power for appliances, making your RV adventures more comfortable.
In Summary
UPS: Best for keeping important electronics safe and running when the power goes out at home or work.

Portable Power Station: Ideal for those who enjoy outdoor activities, need power on the go, or want to enhance their RV experience. It's a versatile, mobile power solution for your adventures and everyday needs.
POWEREPUBLIC T2200 Pro & T3000 Pro Are Coming Soon
Are you looking for a power solution that brings together the best of both worlds – the reliability of a UPS and the portability of a portable power station? Well, meet the POWEREPUBLIC T2200 and T3000 Pro!
T2200 Pro: This powerful portable power station packs a punch with a 2,160Wh battery capacity. But here's the cool part – you can add extra batteries to boost the capacity to over 10kWh! It's your go-to for both indoor and outdoor needs.
T3000 Pro: Just like its sibling, the T3000 Pro is a beast with a 2,880 Wh battery capacity. And yes, you can also expand it with extra batteries to reach a whopping 15kWh+ capacity! It's like having a powerhouse that's always ready.
These amazing devices combine the convenience of a portable power station with the security of a UPS. Whether you're out in the wild or at home, you're covered. Connect them to solar panels or an AC outlet, and you've got instant backup power for your home.
Final Thoughts
Both UPS (Uninterruptible Power Supply) and Portable Power Stations can keep your devices powered, but they serve different needs:
UPS: Great for things that stay put and need power all the time. Think computers and stationary devices.

Portable Power Station: Perfect for stuff that's always on the move, needing power wherever you are – whether you're camping or going off the grid.
If you want a dependable off-grid or emergency backup power source, check out the POWEREPUBLIC T-Series Portable Power Stations. They've got your back, indoors or outdoors. Remember, the bigger the capacity, the longer the power lasts. So, figure out your needs before you make your choice!
Explore More About POWEREPUBLIC Portable Power Stations.