Table Of Contents:
Solar generators are a smart and eco-friendly way to power your devices. They work by capturing sunlight with portable solar panels, storing the energy in a built-in battery, and then converting it into electricity using an inverter. This clean energy solution is gaining popularity as we seek to reduce greenhouse gas emissions and combat climate change.
In this article, we'll answer four important questions: What is a solar generator, why should you invest in one, how do you choose the right one, and why should we switch from gas-powered generators to solar-powered ones? Let's explore these topics together for a greener future!
Knowing What's A Solar Generator Kit
In simple terms, when we mention solar generators, we're typically talking about a compact device that includes portable solar panels, a battery, a battery charger, and an inverter, all working together to capture, store, and utilize energy from the sun. Solar generators are incredibly versatile and find practical use in activities like camping, boating, van life, emergency backup situations, and anywhere electricity might be challenging to access.
Compared to traditional generators which are dependent on non-renewable resources such as fossil fuels, a solar generator operates by connecting a portable power station to solar panels.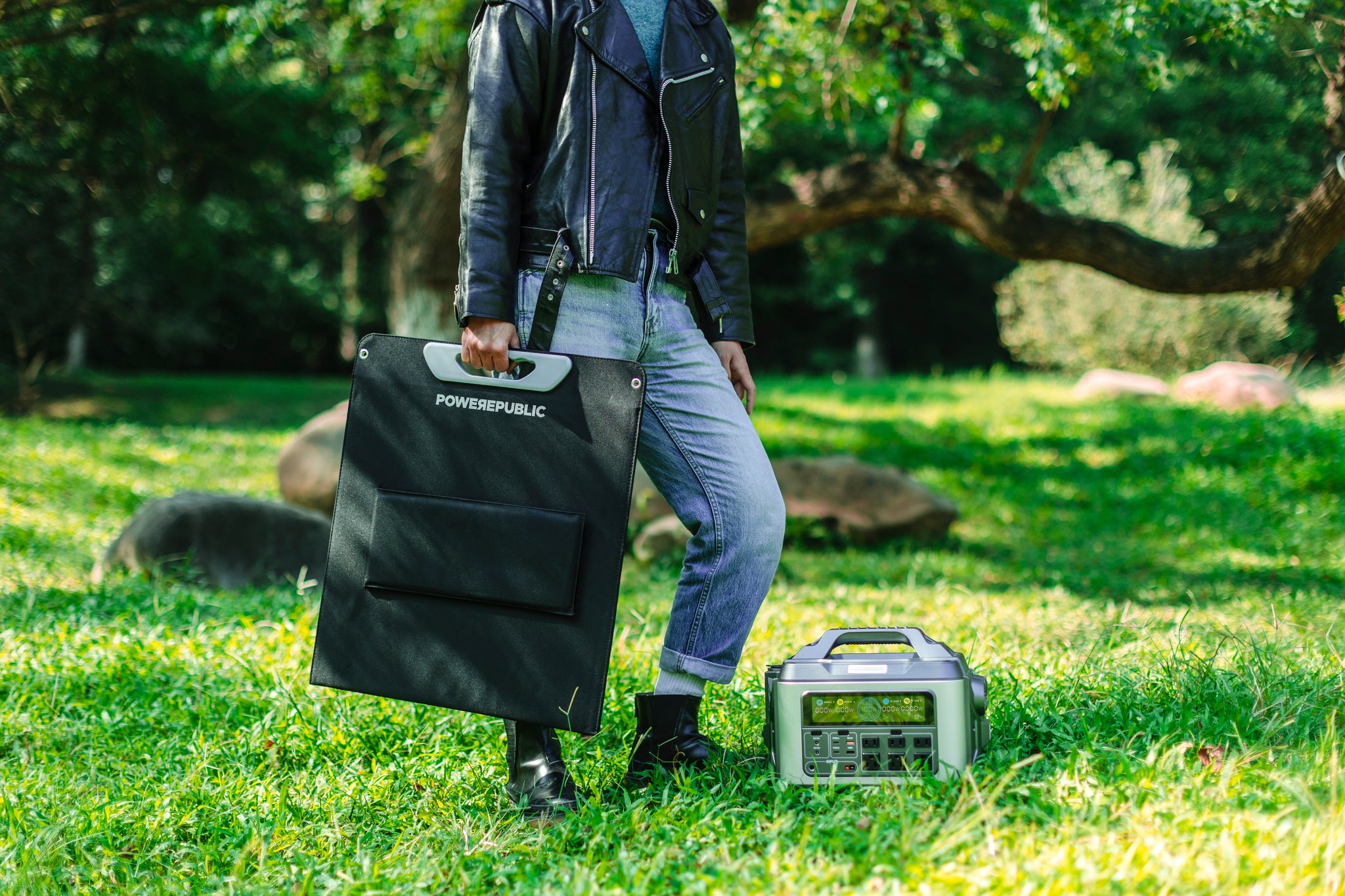 Solar generators consist of four key components:
Solar Panels: They harness the sunlight and convert it into energy. Some solar panels are foldable and portable, while others are permanently mounted on rooftops, vans, and other structures.

Lithium-ion Battery: This battery serves as the energy storage unit, holding the solar-generated power. Lithium-ion batteries are the preferred choice for solar generators due to their efficiency, safety, and long-term cost-effectiveness compared to alternatives like lead-acid batteries.

Controller: The controller manages the flow of energy into the battery, playing a crucial role in protecting and prolonging the battery's lifespan. It also balances the power exchange between the solar panels and the battery, ensuring optimal performance.

Inverter: The inverter converts the direct current (DC) generated by the solar panels into alternating current (AC), which can power electronic devices. While some appliances run on DC and don't require conversion, an inverter is essential for most household devices.
In simpler terms, think of a solar generator as a portable device that combines a battery with solar panels to capture and store solar energy for your use.
How Do They Work?
Now that we've covered the essential components of a solar generator, let's explore how it operates in straightforward terms. A solar generator functions by capturing solar energy, transforming it into electricity, and storing it in a battery for later use.
Here's a step-by-step breakdown of the process:
Solar panels absorb sunlight and convert it into direct current (DC) electricity, which then passes through the controller.

The controller plays a vital role in regulating the voltage of the electricity before it's stored, ensuring that the correct amount of current is directed to the battery.

Lithium-ion batteries serve as the storage unit for all the captured energy, holding it for future needs.

When you require electricity for your appliances and devices, the inverter steps in and converts the stored energy from the battery into alternating current (AC) power.
In reality, it's not as complicated as it might initially seem. Having a basic understanding of these fundamental processes is all you need to grasp how a solar generator operates.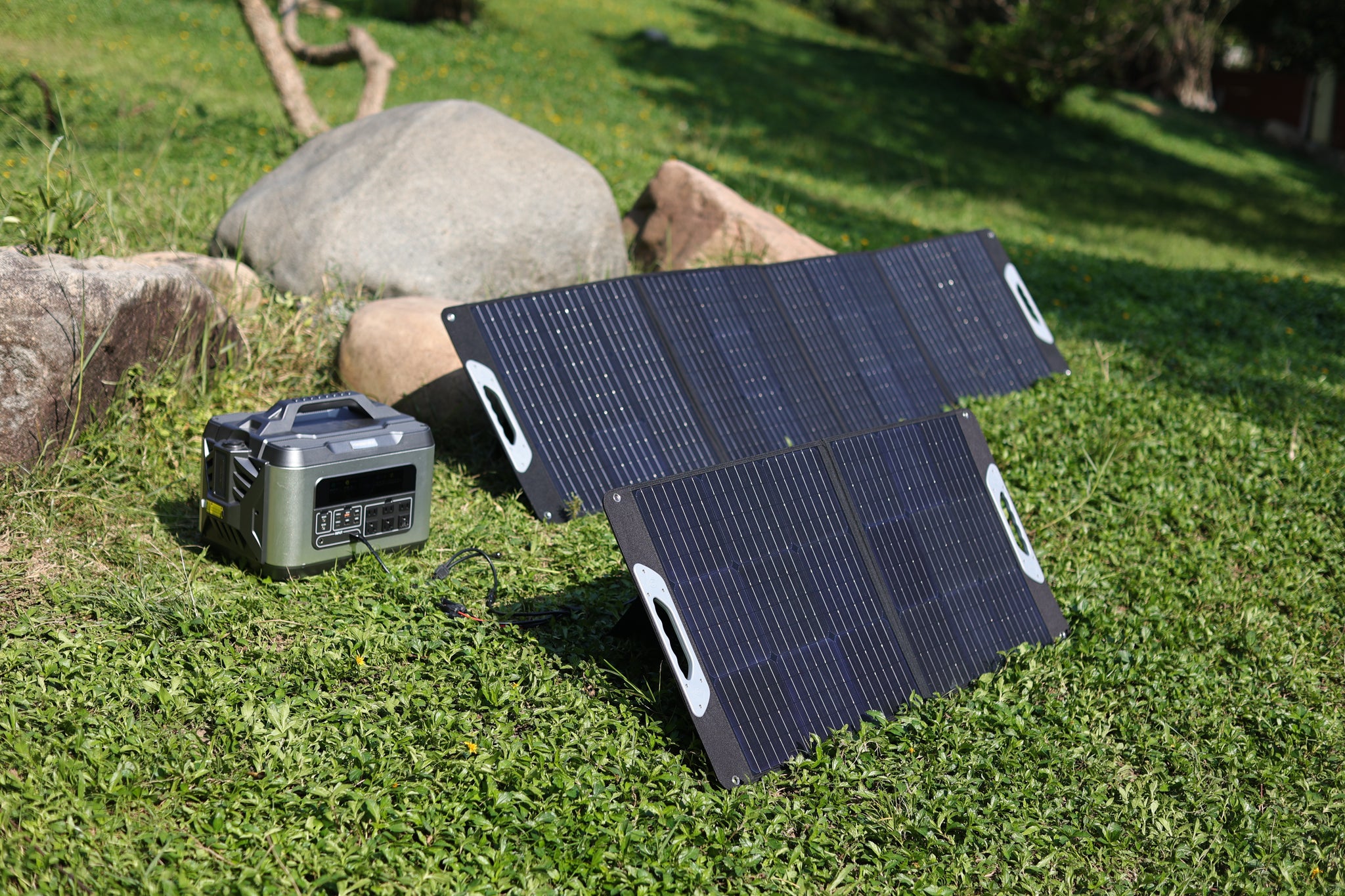 Benefits Of Solar Generator Kits
Solar generators are an environmentally friendly alternative to traditional gas-powered generators, as they don't rely on burning fossil fuels to generate electricity. They offer versatile energy storage solutions for various situations, including power outages, outdoor device charging, and emergency power for your RV or electric vehicle (EV).
The following are some benefits of solar generator users:
Environmentally Conscious Individuals: Traditional generators release harmful emissions into the environment and the atmosphere. If you prefer a quieter, cleaner, and more eco-friendly energy source, a solar generator is an excellent choice.

Noise and Smell Sensitivity: Traditional generators can be noisy and emit unpleasant odors due to the combustion of fossil fuels. If you're bothered by these issues, a solar generator offers a quieter and odor-free alternative.

Outdoor Enthusiasts: Solar generators are a game-changer for those who spend a lot of time outdoors. These portable power solutions allow you to take them anywhere, providing continuous access to electricity. Whether you need to charge your devices or run small kitchen appliances, solar generators enhance your outdoor experience.
Things To Keep In Mind When Selecting A Solar Generator
It is important to choose the right solar generator for your specific needs. Solar generators come in various sizes and capacities, so understanding your power requirements and intended use is essential to avoid getting one that's either too large or too small.
Let's delve into the some important factors to consider:
Power Requirements: Determining your power needs should be your top priority when selecting a solar generator. If you plan to use it for camping, calculate the total power consumption of all your devices. Ensure that this total power consumption does not exceed the maximum output capacity of the solar generator. Otherwise, it won't suffice.

Battery Capacity: The battery capacity of a solar generator is typically measured in Watts-hours (Wh). The higher the capacity, the longer the running time. Calculate your devices' total power needs and compare them to the solar generator's capacity to ensure they meet your requirements.

Recharging Time: Consider how long it takes for the solar generator's battery to reach a full charge. Some models can even charge from an AC power outlet, which can be valuable during power outages or when you have no access to sunlight.

Additional Features: Identify your specific needs and preferences. Do you require multiple USB ports and power outlets for charging multiple devices simultaneously? Do you need fast charging capabilities? Take note of these requirements when choosing a solar generator. Also, consider the unit's weight, especially if portability is a concern.

Customer Service and Warranty: Pay attention to the customer service and warranty provided by the manufacturer. Larger companies typically offer better customer support and more comprehensive warranties. This is important in case your solar generator experiences any malfunctions, as it allows for repairs or replacements. Be sure to understand the company's policies before making a purchase.
Solar Generators VS Gas Generators
The Pros

 Of Solar Generators
Portability: They are lighter and more portable than gas-powered alternatives. They are perfect for outdoor activities like camping, emergencies, and on-the-go situations.

Low Maintenance: Traditional generators require high maintenance, including engine care and fuel management. Solar generators, on the other hand, need minimal maintenance since they don't rely on gas.

Green and Unlimited Energy: Solar generators use renewable energy from the sun, which is clean and sustainable. Traditional generators rely on fossil fuels that produce harmful emissions and can be expensive.

Easy Operation: Solar generators require little effort to use. You simply need to push a button to turn them on and plug in your devices.
The Cons

 Of Solar Generators
Higher Initial Cost: Solar generators tend to be more expensive upfront compared to traditional generators. Larger capacity units can be particularly costly. However, their operational costs are lower, offering potential long-term savings.

Limited Energy Storage: Solar generators have limited battery capacity, making them less suitable for powering an entire home during extended outages. Understanding your usage needs is crucial when selecting one.

Energy Generation Time: Unlike traditional generators that produce electricity instantly, solar generators may require time to charge their batteries. If the battery is depleted, you'll need to recharge it, which depends on weather conditions.
Pros of Traditional Generators
Variable Sizes: Traditional generators come in various sizes, from small to large, offering flexibility in choosing the right one for your needs.

Mature Technology: Traditional generators have been around for a long time, resulting in mature and well-established technology. However, limited competition has slowed down innovation.

On-Demand Electricity: Traditional generators produce electricity immediately once fueled, offering instant power. Solar generators require prior charging via solar panels or AC outlets.
Cons of Traditional Generators
Fossil Fuel Costs: Traditional generators rely solely on fossil fuels, leading to increasing long-term operational costs.

Toxic Emissions: Burning fossil fuels in traditional generators produces toxic emissions, including carbon dioxide, carbon monoxide, nitrous oxides, and sulfur oxides, contributing to air pollution and health issues.

Noisy Operation: Traditional generators are noisy and can disrupt your surroundings, especially when used at night in camping sites.

High Maintenance: Traditional generators require frequent maintenance to ensure their longevity. Maintenance includes cleaning, oiling, and part replacements, adding to the long-term cost.
Understanding these pros and cons will help you make an informed choice between solar and traditional generators based on your specific needs and preferences.
Final Thoughts
In recent years, solar generators have gained popularity due to advances in solar technology and increased environmental awareness. These generators are becoming preferred alternatives to traditional gas-powered ones, offering several key advantages.
One significant benefit of solar generators is their low maintenance requirements. Unlike gas generators with complex engines, solar generators require minimal upkeep, resulting in cost savings and hassle-free operation.
Portability is another advantage, as solar generators are designed to be lightweight and easy to transport. They are perfect for outdoor activities, camping, and emergencies, enhancing accessibility to power on the go.
Solar generators harness renewable, clean energy from the sun, operating silently without emissions. This eco-friendly approach reduces carbon footprints and contributes to a healthier environment while remaining cost-effective.
Lastly, solar generators align with sustainability goals. As solar technology improves, these generators become more efficient and reliable, supporting global efforts to reduce greenhouse gas emissions and combat climate change.
In summary, solar generators offer low maintenance, portability, eco-friendliness, and sustainability, making them appealing to environmentally conscious consumers and practical users alike. Their role in transitioning to cleaner energy sources continues to grow.