In recent years, there has been growing global concern about climate change, fossil fuel consumption, and the need to shift towards renewable energy sources. The shift from fossil fuels to solar energy has become a significant focus, to reduce carbon emissions and minimize air pollution.
Today, despite the abundance of technologies, devices, and solar-powered products, many people still wonder about the practical applications of solar energy. The truth is, the possibilities are vast and diverse. Let's explore the uses of solar energy.
Solar Energy
Firstly, it's essential to understand that solar energy comes in two main forms:
Concentrated Solar Power (CSP): This method captures sunlight using mirrors or lenses to focus a large amount of sunlight onto a receiver.

Photovoltaic Power (PV): PV generates solar power using solar panels and is the most common application.
Solar energy can be put to use in two broad ways: solar heating (CSP) and solar power (PV). By transferring sun energy into power or heat, solar energy can used for various purposes, including heating systems, lighting, automotive applications, and powering gadgets. It's important to note that today's solar-powered devices are more advanced, versatile, and widely used.
Solar Applications
Application #1 - Men On Top:

Rooftop Solar
One common application of solar energy is solar rooftop, which is widely used in rural areas. Solar rooftop has gained immense popularity in regions with abundant sunshine, like Australia, California, Florida, Texas, Southeast Asia, and various European countries. This surge in popularity is driven by the growing awareness of the environmental and economic benefits of solar energy.
The cost of solar panels has dropped significantly, making solar energy affordable and accessible worldwide. To put this into perspective, in 2008, the United States had only 0.34 GW of solar rooftop capacity. Today, it boasts an estimated 97.2 GW, marking a remarkable 28,500% increase. Moreover, rooftop solar now contributes to more than 40% of total electricity generation in the United States.
Opting for rooftop solar not only translates to substantial savings on your annual electricity bills but also plays a crucial role in reducing your carbon footprint and shielding you from escalating electricity costs. When considering rooftop solar, factors such as exposure to the sun, type of roof, condition, home structure, roof orientation, and energy requirements should all be taken into account.
Application #2 - Men On "Fire": Heating Using Solar Energy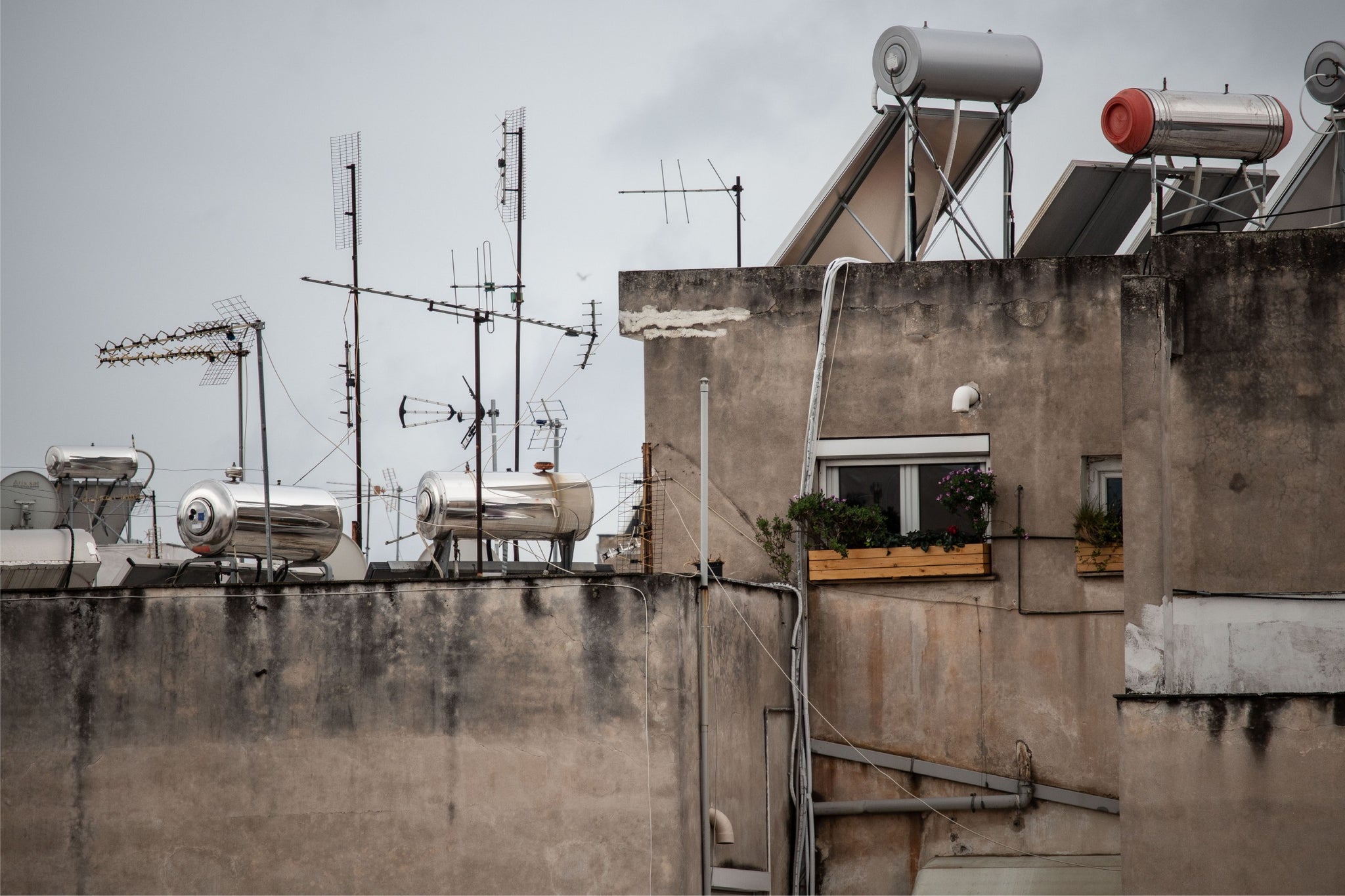 Solar energy finds another valuable application in the generation of concentrated thermal power, offering alternative heating solutions for various properties. There are two primary types of solar thermal systems:
Solar Water Heaters: These systems utilize water as the primary medium to convert solar energy into thermal energy.

Solar Space Heaters: Designed to use air or liquid as a means to capture sunlight and convert it into thermal energy.
Solar water heaters typically pay for themselves within 5 to 10 years after installation. For those considering solar heating systems, the return on investment can range from 5% to 10% of the cost of a full solar panel system.
One significant advantage of solar thermal power is its ability to efficiently heat central plumbing, pools, and other home facilities at a lower cost compared to traditional alternatives like gasoline or electric pumps. According to the Department of Energy (DOE), solar heating is often the most cost-effective method for heating a pool or Jacuzzi in many regions of the United States. While these solar thermal systems may come with an initial cost ranging from $3,000 to $4,000, they typically deliver substantial returns on your investment within just 3 to 5 years.
Application #3 - OUTDOOR 

SOLAR LIGHTING
Outdoor solar lighting (PV) stands as a practical solution for cutting electricity expenses and advancing sustainability. It offers a straightforward approach to curbing electric bills by harnessing the sun's energy. Unlike traditional outdoor lighting, solar lighting boasts ease of installation, often requiring no wires, and functions by capturing sunlight during the day to charge its batteries, ensuring reliable nighttime illumination.
While solar lights might not enjoy the same level of recognition as solar panels, they are steadily gaining popularity, especially when combined with energy-efficient products like LED bulbs. This trend is particularly evident in regions grappling with electricity shortages, where the affordability, accessibility, and hassle-free installation of solar-powered street lights, floodlights, and work lights make them a favored choice.
Application #4 - Men On Rolling:

Solar Transit
Solar energy is making exciting inroads into the world of transportation, including cars, buses, subways, railroads, and even solar roads, as a sustainable alternative to traditional modes of transport.
One notable milestone occurred a few years ago when the world witnessed the first successful voyage of a solar-powered plane circumnavigating the globe. This groundbreaking achievement marked a significant turning point in the application of solar energy in the transportation sector. Even more promising is China's commitment to reducing its carbon footprint, with regulations mandating that solar-powered enterprises contribute to mass transit systems in megacities like Beijing and Shanghai.
A shining example of this solar-powered revolution is the debut model by SolarSpirit, a vehicle that harnesses solar energy to propel itself. This vehicle even took part in a racing tournament in Australia, sparking discussions about the boundless potential of solar-powered automotive and transit systems. The future holds exciting prospects for the world of solar-powered transportation.
Application #5 - Men Get Personal: 

Wearable Tech
The world of wearable solar technology is on the rise and gaining popularity. While it's not entirely new for consumer electronics to tap into solar power, it's becoming increasingly prevalent and convenient. For instance, portable solar chargers or solar power banks have emerged, capable of recharging a wide array of devices, from cameras and smartphones to e-readers and tablets.
The tech industry is enthusiastically embracing solar technology, and we can anticipate the emergence of more self-charging and environmentally friendly solar wearables that seamlessly integrate into our daily lives. These innovations encompass solar-powered smartwatches, smartphones, fitness trackers, portable solar chargers, and even portable power stations. As these advancements continue to progress, they provide eco-conscious consumers with more sustainable alternatives to meet their personal tech needs.
The Future Of Solar Energy
Over the last decade, solar energy has undeniably played a pivotal role in the global transition towards renewable and sustainable energy sources. Just a decade ago, the global solar industry was relatively underdeveloped and heavily reliant on government incentives and subsidies for growth. Fast forward to today, and we find ourselves with an impressive solar capacity of around 120GW, thanks to falling solar panel costs and remarkable advancements in solar technology.
Especially in regions blessed with abundant sunlight or grappling with electricity shortages, solar energy has emerged as a cost-effective and accessible power source. Looking towards the next decade, it's clear that solar energy will become even more affordable, dependable, and widespread on a global scale. Experts in the industry predict that by 2030, solar energy could take center stage as the most significant source of electric power, with solar-related products and systems becoming significantly more affordable.
Future innovations will focus on leveraging solar energy in more advanced applications, particularly in seamlessly integrating solar technology into power systems, businesses, and homes, fostering greater energy independence. This transition involves harnessing cost-effective, solar-powered electronic technologies and advanced power electronics to establish a more eco-friendly cycle with a significantly reduced carbon footprint.
In summary, the utilization of low-cost solar energy positions it as an unbeatable source of renewable power when compared to fossil fuels. The future of solar energy appears promising and expansive, offering not only individual benefits but also significant contributions to humanity's efforts to combat global warming and climate change, benefiting the Earth as a whole.
Conclusion
Without a doubt, solar energy will remain a linchpin in the global shift towards renewable energy for many years to come. In today's world, solar energy is virtually everywhere, finding its way into various facets of our lives, from solar electricity and lighting to heating, transportation, and ventilation.
You can't help but notice the growing number of rooftops adorned with gleaming solar panels, the streets illuminated by solar-powered lights, and portable solar gadgets catering to our on-the-go needs. These examples represent just the tip of the iceberg, as the world of solar technology continues to dazzle us with groundbreaking innovations and versatile applications.
Solar energy isn't just about curbing our carbon footprint; it's about creating a more harmonious environment for our generation and the generations to come. As solar technology marches forward and new applications emerge, we can look ahead to a brighter and more sustainable future, one where the sun plays a starring role in powering our world.
Explore POWEREPUBLIC Solar Generator.